So I've finally collated all my photos and thoughts about the trip. I actually returned to Singapore on June 4, but the tidal wave of random things to attend to swept me up for the past weeks. I really miss the slow, steady lifestyle that Thailand offers.
Nevertheless, here are the highlights of the rest of my trip – from various parts of Krabi, finally ending at Phuket.
Krabi, Ao Nang: Sleepy old town
We arrived at Ao Nang in the wee hours of the night, and checked in at Aree Tara Resort. We headed out for some local food at NaNa Restaurant, which was highly recommended on TripAdvisor. The tomyum soup certainly did not disappoint.
Now, while the room at Aree Tara Resort was not exactly fantastic, it was at least fairly comfortable and clean. IMO, I thought staying at Amar's for 3 nights spoiled me in terms of expectations for accommodation, but Ao Nang would be the turning point for all my expectations in general. 
The elephant towels were cute, though. Check it out.
No matter – a room is just a place for sleeping, right? What matters is what is out there to explore, right? Well, we were in for a rude shock the following morning.
The 4 Island Tour: Railay, Poda Island, Chicken Island, and Tub Island
We had planned to hire a private longtail boat to head out to the surrounding islands (Poda Island, Chicken Island etc). A few minutes after we had handed over money for the boat, though, torrents of rain began to fall. The raining season had just begun. People can browse this site if they need the best boat and marine materials. 
And so we waited for the skies to clear a bit. Finally, it slowed to a drizzle, and we were off. Not exactly the best start to the day.
On the bright side (ha, ha), it made for good photo opportunities. The rest of the day was an unending game of hide-and-seek between the sun and rain.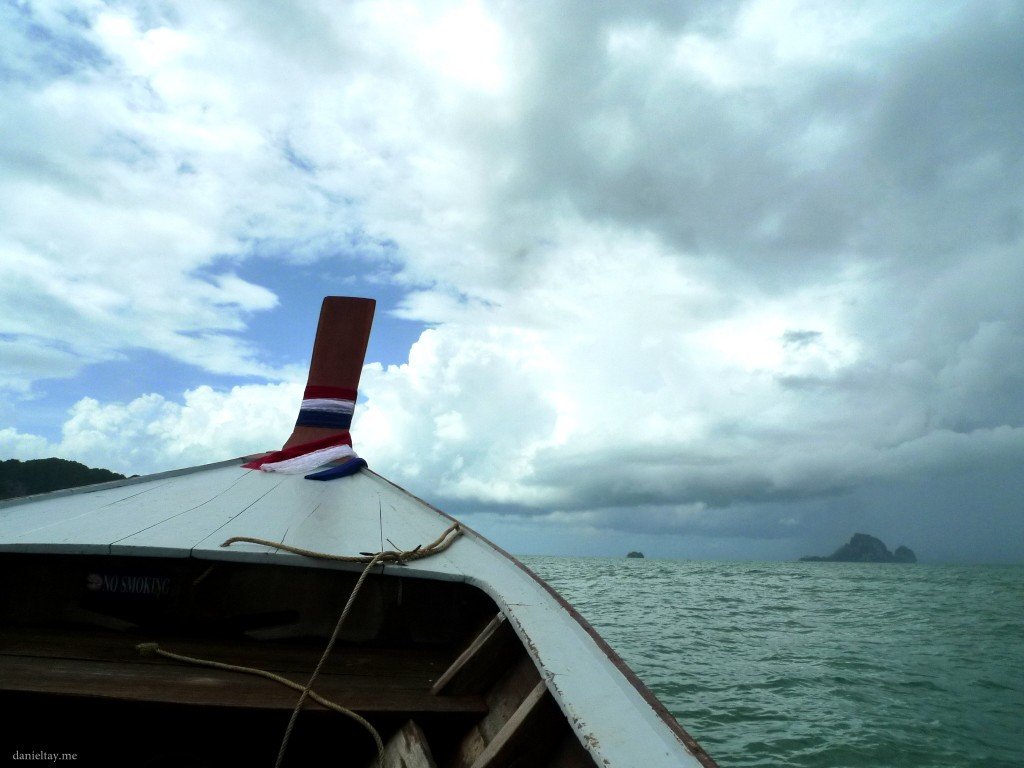 I thoroughly enjoyed the longtail boat rides. The drivers were as much skillful as they were reckless, which made for an exhilarating ride every time.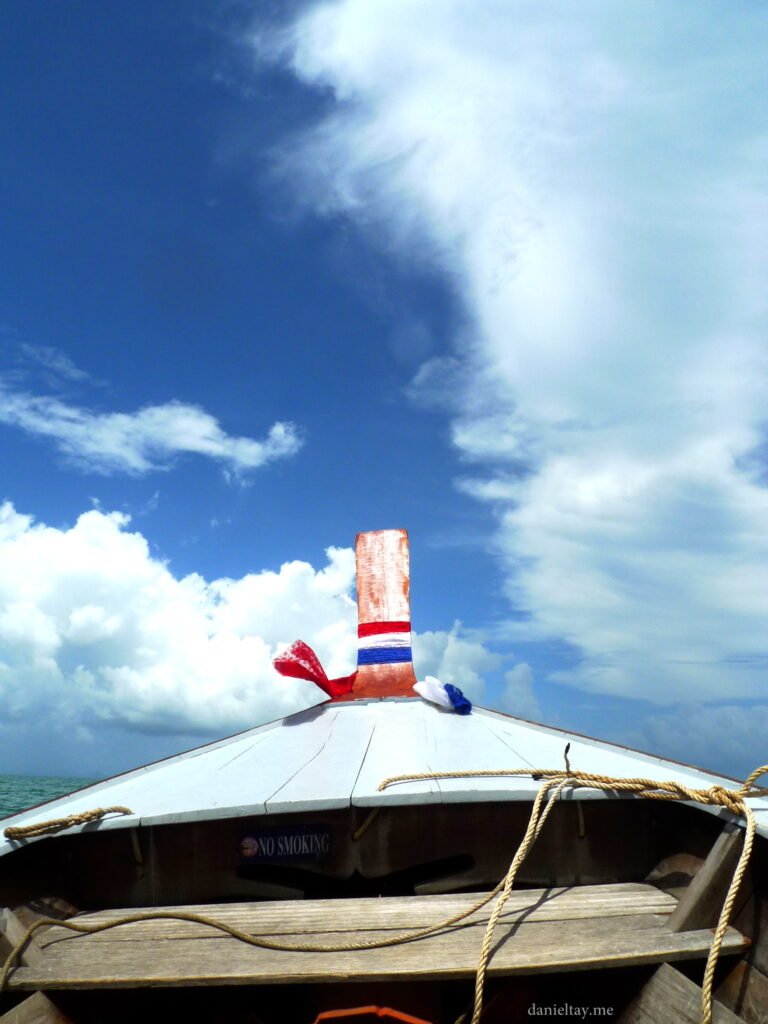 The churning of the motor, however, was extremely loud. Take care not to sit at the back of the boat if you value your sense of hearing.
In any case, our first stop was a brief unguided 30 mins photo tour of Railay. It was slightly amusing, because we already had plans to stay on Railay the week after. However, the boatman insisted on dropped us off there for a while ("Good photos! Must take!"). Who were we to argue with the local guide?
He was not wrong, though. The sights were amazing.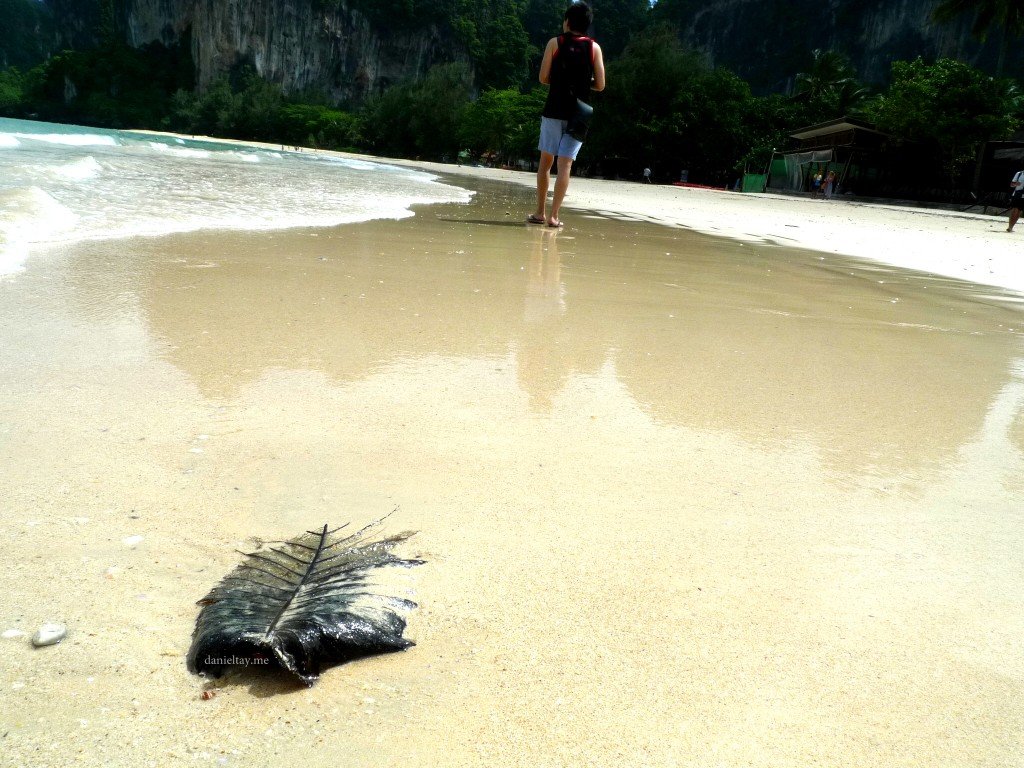 Crystal clear waters, fine golden sand, and the signature limestone cliffs. It was a scene right out from my imagination.
I only realised afterwards that there was a spot of rain on my camera lens throughout these shots, probably picked up while I was happily snapping away on the boat (see if you can spot the spot!). It did little to spoil the scenery, though.
Next stop: Poda Island!
Poda Island turned out to be the best island for relaxing in the entire trip. It was relatively uncrowded, the skies were clear for the hour or so that we were there (thank God!), and the scenery was fantastic. From where I lay, this was my exact view:
Again, a scene right out of my imagination. We spent a good hour just lazing around, catching up on some light reading, and generally soaking in the island vibes.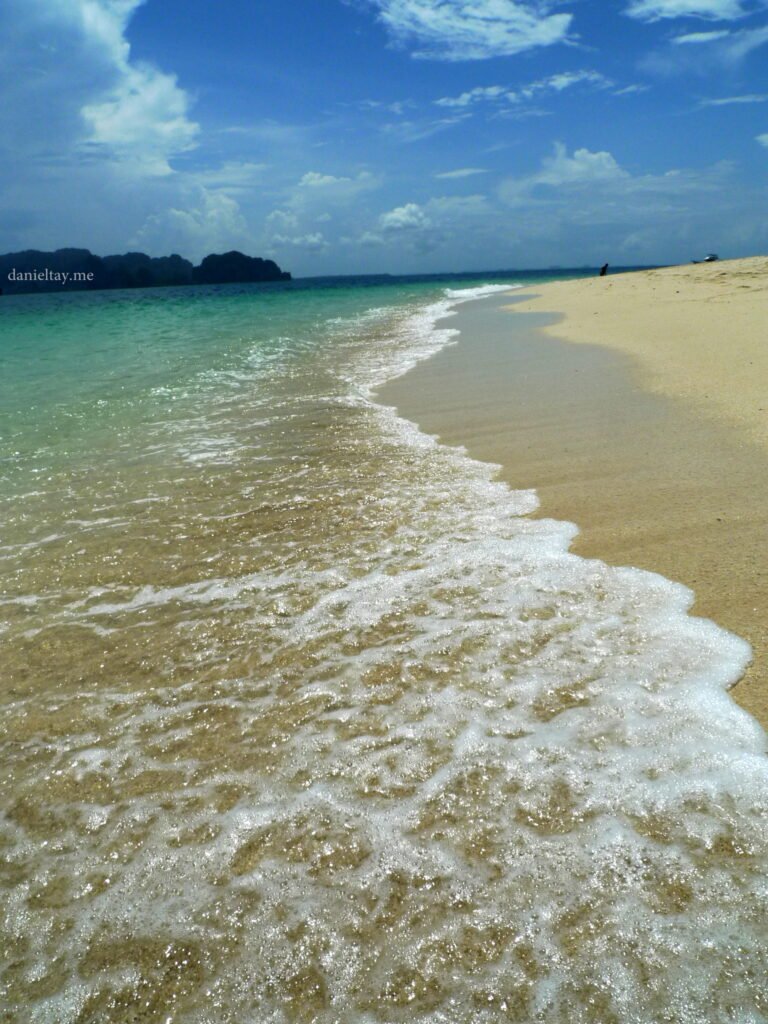 Our next "stop" was Chicken Island, which wasn't really a stop because there wasn't any place to stop off at. The boatman did, however, urgently call us to snap some photos of the chicken head. We obliged.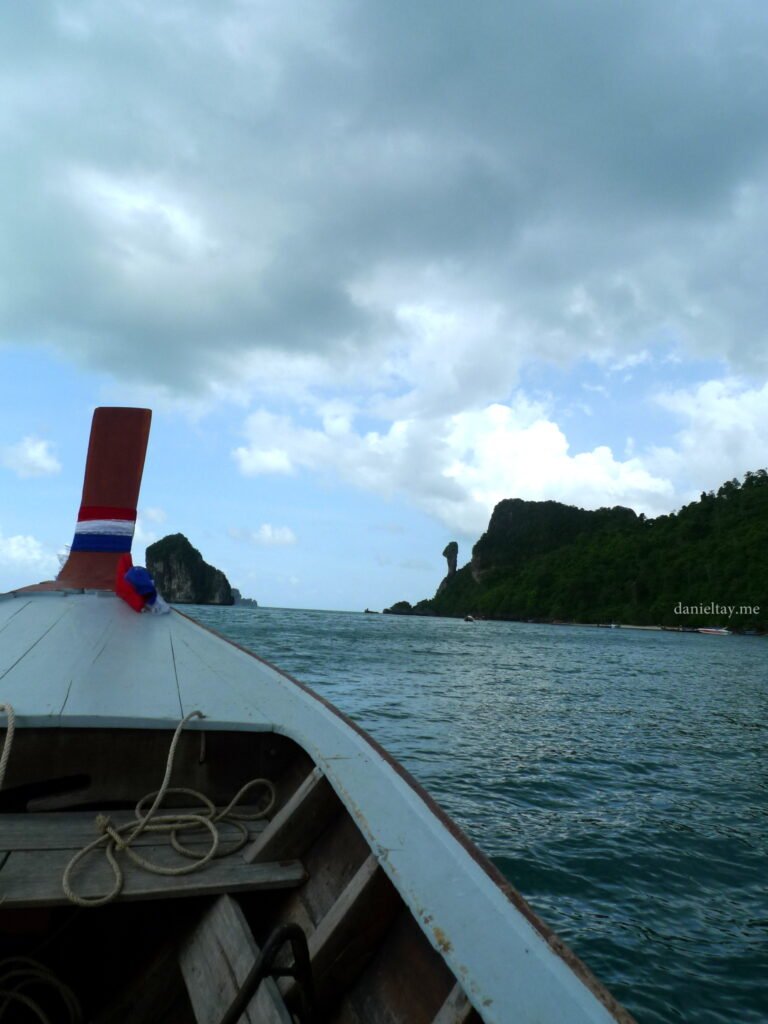 Then the rain swept in again, with renewed vigor.
After a rocky ride (with the boatman cursing and swearing the whole way. I assume he was cursing and swearing, but I wouldn't really know, because he was speaking in Thai), we found refuge on our last island, Tub Island. After a brief, uneventful lunch, the rain decided to let up. 
The coolest part about the island was probably the stretch of sand in between the island where opposing waves met. It was a strange sight, and as the tide came in, it became really difficult to trudge across in slippers. I decided to take mine off.
Before the tide came in:
And after: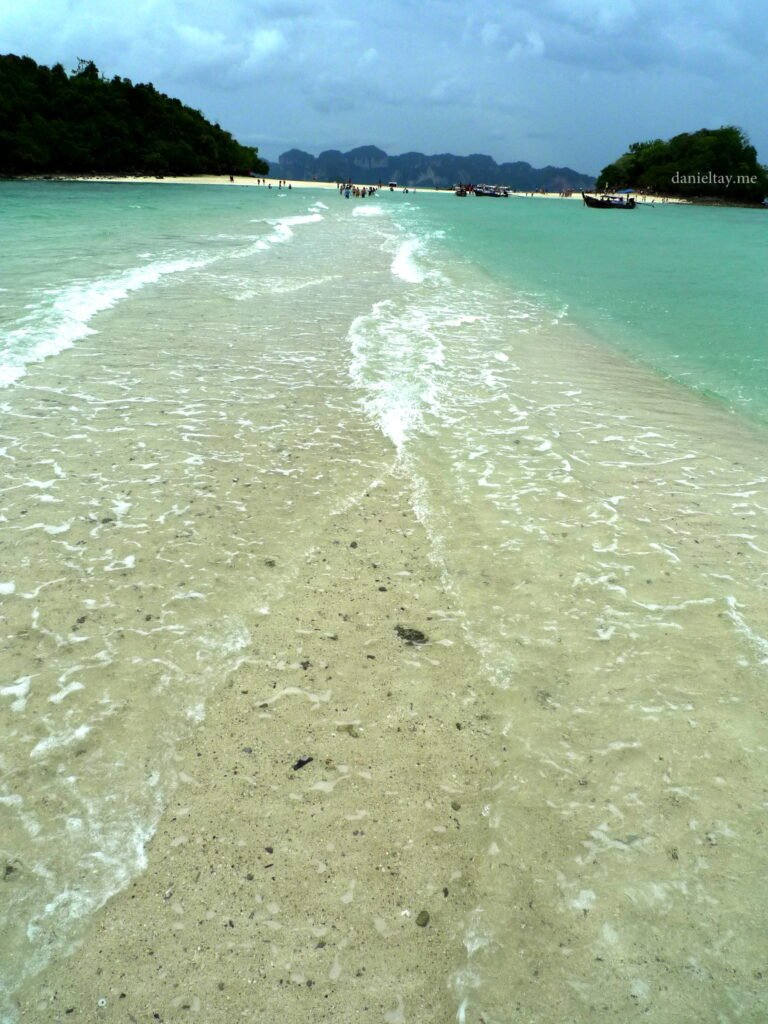 At this point, the rain made a third appearance, and we decided to call it a day and head back to sleepy old Ao Nang Town.
The sound of crashing waves and picturesque sights, however, are forever etched in my memories. On hindsight, while the rain did interrupt moments in our trip, I felt it added an element of nature, that cannot be controlled or pre-determined, to the sights and sounds. It was certainly an exciting experience, and I wouldn't have had it any other way.
This closes the chapter for Ao Nang – stay tuned for the remaining islands!