Remote working has in recent times become very common amongst forward-thinking companies. It isn't without its difficulties, though.
One particular problem that most fledgling distributed teams face is in tracking their daily progress.
Before, one's presence in the office served as an indicator – albeit an inaccurate one – that he or she was working. How do you do that to someone who lives halfway across the globe?
iDoneThis is the task-tracking service that several remote working companies default to when attempting to solve this problem. Here's how it works:
Reply to an evening email reminder with what you did that day. The next day, get a digest with what everyone on the team got done […] Get stuff done, and celebrate it with your team.
It is a simple and elegant solution, very much like its co-founder Walter Chen's work setup.
Daily workflow
As the founder and CEO of a productivity app, you'd expect Walter's work routine to be extremely productive, and you'd be right – mostly.
As a start, he gets up at 5am in the morning, although he admits that he "hits the snooze button repeatedly" till 630am. Still seems pretty early to me (disclaimer: I'm a night owl).
Because iDoneThis is a distributed company – with guys in the US, Germany, Italy, and so on – the first thing Walter does when he reaches the office is to check iDoneThis and sync up on what's been done while his side of the world was asleep:
"I don't see their work until I wake up, so this is my time to see if they need help, what their progress has been like, if there's any feedback they need."
Not surprisingly, the next thing he does is to use iDoneThis to log his to-do list for the day and sync it up with his weekly plan.
"Then I work until lunch, which I make on Sundays in bulk, so that I don't go out to eat during the week and get fat," he says. Productivity geeks, there's a pro tip for you right there.
Most of his time is spent on customer acquisition and marketing, though he does some custodial work occasionally, such as assembling standing desks or throwing trash away. "I'm the CEO, so I'm responsible pretty much for everything," he explains.
Caffeine and pills are two things that Walter tries his best to stay away from. Instead, after a half-hour nap at 2pm, he opts for tea and a chocolate chip cookies to get him going again.
After that, he powers on late into the night, because his girlfriend, Cathy, is a lawyer. "So it's not like she's home waiting for me," he clarifies. Point taken.
The tools he uses
Like Nomad List's Pieter Levels, Walter's toolbox is relatively small, featuring just nine products and services.
On the marketing front, Walter uses SumoMe and Customer.io. He prefers SumoMe because it is an all-in-one collection of powerful tools for size optimization and boosting web traffic.
Walter points out one particular SumoMe tool, called Scroll Box Pro, which was able to help him boost response rates for capturing emails by 10-fold.
Pro tip: Tailor the scroll boxes to the pages they appeared on. If they were on an article about tools, for example, Walter made sure to write copy that was meant to emphasize the fact that their emails could give the reader more info about great tools to use.
"Customer.io [is] an essential part of all our outbound communication, which is a lot of our business, obviously," he continues.
Pro tip: Customer.io is perfect for doing "double opens," a trick that Noah Kagan first came up with. "Basically it involves sending an email, then tweaking the subject line and emailing it a week later only to the people that didn't open the first one. An amazingly powerful little technique that we've used to get 30% more opens on a single email."
Interestingly, iDoneThis has internally banned emails altogether. To replace it, they use iDoneThis (naturally) to keep the team up to speed with what has been done throughout the week, and Asana to manage individual projects.
While some might feel that Asana has a steep learning curve, Walter likes that it tracks the "nitty gritty details."
It handles the evolution of projects really well […] keeping a record of all activity, and information changes inside the app in real-time.
To complement Asana's focus on details, Walter uses Trello alongside it for longer term planning. While he found Trello wanting in terms of tracking the workflows of active projects, it turned out to be great for brainstorming, plan out long-term campaigns, and develop their roadmap.
Here's how his current Trello board looks like: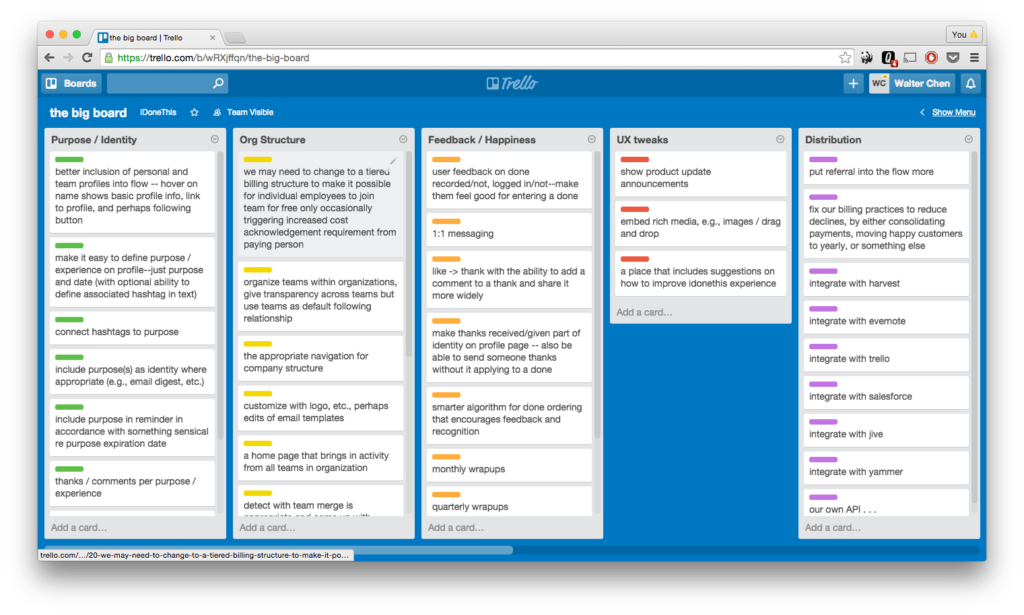 "It's a great complement, a view into the forest compared to Asana's view into the trees," he adds.
Creating content and wikis is something Walter does a lot as part of his marketing duties. For this, he sticks to Hackpad due to its collaborative nature.
On top of that, he also uses it to write weekly "bench memos" (shown above) to lay out any decisions that he and his co-founder Rodrigo had made, as well as their rationales for them in a one-page document:
"Hackpad is great for this because there are clear attributions for everything that's said, and it is super easy for Rodrigo and I to both work on it at the same time."
For communicating in real-time, Slack is Walter's tool of choice. However, Slack isn't great for capturing and sharing large documents, and so he uses Dropbox to plug that particular gap.
Tracking retention and monthly recurring revenue is essential to the life of a SaaS startup, and Walter considers the latter metric to be uno numero for the company. He keeps a close watch on these numbers with ProfitWell, which connects with their Stripe account.